GAC Chemical Corporation is a chemical manufacturer and distributor located in Searsport with 60 employees. Primary markets for GAC products include: pulp and paper, power plant, industrial manufacturing, food, agriculture, potable municipal water, and waste water. This year, GAC entered a joint venture with Mexico-based Dalegip America Inc. to construct a new processing plant, adding 12 to 20 new jobs, and opening up new potential global markets. The company has been a MITC Member since 2011.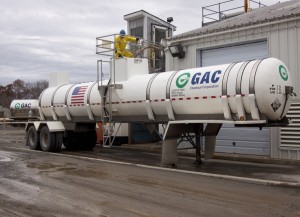 Already known as a worldwide leading bulk producer of high purity ammonium sulfate, a chemical used in the food, pharmaceutical, and water treatment industries, at this point international trade represents only 5% of GAC's total sales.
"I'd like to see that international sales number double to 10% in the next year or so," David Colter, President and CEO, commented. "And by 5 years out, the goal is 20%. That's why we joined MITC."
According to John Wolanski, Vice President of Sales & Marketing, a key growth opportunity for GAC lies in providing toll processing/contract manufacturing of chemicals – like a private label – for other companies located around the world. In 2013, this strategy came to fruition when the company signed a contract with Dalegip America Inc., a leading manufacturer of industrial pigment products for the paper industry located in Mexico.
With construction of the new chemical reactor plant at the Searsport facility completed in December, a team of Dalegip engineers were in Maine to begin operations and train GAC employees. Within the next year, this project will create between 12 and 20 new jobs at GAC, based on product demand.
"We view this contract as an investment in a long-term partnership," Wolanski explained. "While we believe this will lead to additional products for GAC, it will also create a ripple effect for other Maine businesses and educational institutions."
According to Wolanski, during the recent State of Maine Trade Mission to Mexico & Colombia, Governor Paul LePage introduced GAC as "Maine's chemical company" and spoke of the importance of the GAC-Dalegip project in making Maine's pulp and paper industry more competitive in the global market. This contract represents Maine's first foreign direct investment from Mexico. Discussions are now underway at MITC to organize a Mexican delegation visit to Maine in 2014 to develop additional trade and investment opportunities.