Hydro International is a global leader in sustainable technologies for stormwater control and wastewater treatment. With headquarters in the UK, the company also has offices in Portland, Oregon, as well as here in Portland, Maine. Of the 130 employees, 25 work in the Maine office. Hydro International has been a MITC Member since 2004.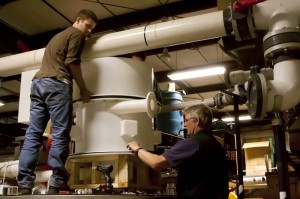 According to Hydro Americas President, Stephen Hides, our attitudes toward water need to change and are beginning to. He sees the international community waking up to the need to address water quality problems and looking to the U.S. for best practices.
"Today everyone is familiar with the concept of 'environmental footprint'," Hides said. "But
we're just starting to talk about the 'water footprint' of products and lifestyle choices."
Increasing global recognition of the importance and value of water means Hydro International
is well-placed for growth in the future. The Maine office's focus is the market for the company's stormwater products, both domestically and in Central and South America.  While the primary purpose of the Maine office is to serve the US market, a growing portion of its business is international.
"MITC has provided valuable assistance and advice on many occasions and helped Hydro evaluate market opportunities in several countries including Brazil, Japan, and Mexico," Hides commented.
Hydro International has established business partners in Australia, New Zealand, Korea, and Mexico. As a result of participation in the State of Maine Trade Mission to Chile & Brazil in 2011, the company won their first contract in Sao Paulo, Brazil for The Downstream Defender® product, which was installed in the LEED® (Leadership in Energy and Environmental Design) certified Eldorado Towers project in 2012. To date, an additional 20 sales have been made in Brazil.
In December 2013, a ground-breaking drainage project, designed and built by Soluciones Hidropluviales of Mexico City using stormwater treatment technologies from Hydro International, was completed in downtown Monterrey, the third biggest city in Mexico with a population of 4 million. The project pioneered the use of stormwater treatment technologies in combination with stormwater storage to recycle rainwater in an arid region of the country where water scarcity is becoming an increasing problem caused by over-extraction from underground aquifers.